Some of them are indeed beautiful to visit, however, you may not want to stay too long in the cities on this list. The reason is simple – they are the most expensive cities to live in in the world. New York City and Zurich are already well-known for their high costs of living, but some other cities might surprise you. Here are the top 10 (scroll to the bottom for the full list):
Hong Kong
Tokyo (Japan)
Singapore
Seoul (South Korea)
Zürich (Switzerland)
Shanghai (China)
Ashgabat (Turkmenistan)
Beijing (China)
New York City (USA)
Shenzhen (China)
Honk Kong is on the top of the list and interestingly, eight out of ten of the most expensive cities are located in Asia. You can see the top 5 cities by region on the map below: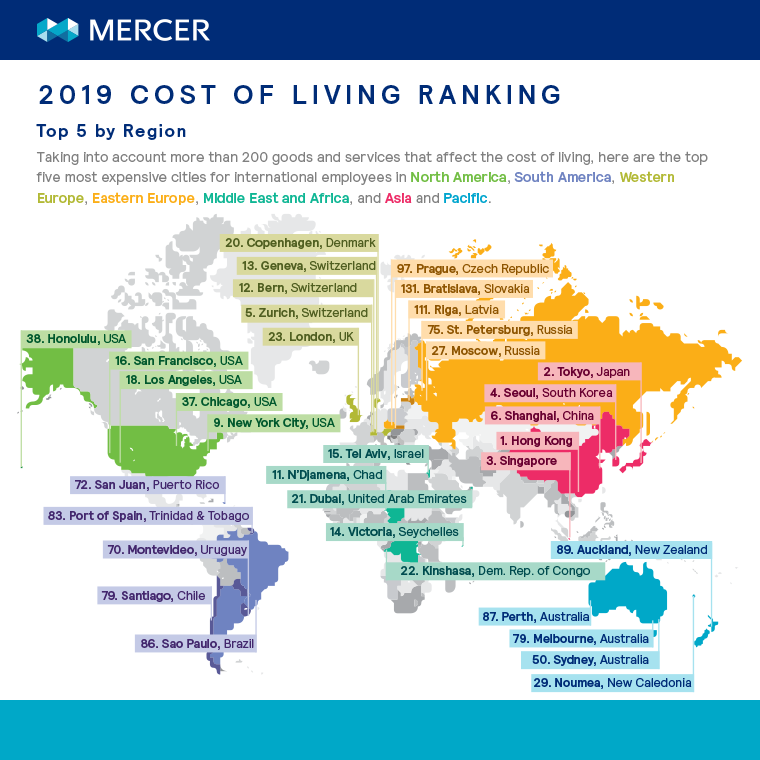 The research was done by the human resources consulting company Mercer. The data was based on multiple factors like food, domestic supplies, housing, clothing, utilities, home services, personal care, transportation and recreation and entertainment.
You can also see which city has the most expensive coffee or how much is 1 litre of gasoline: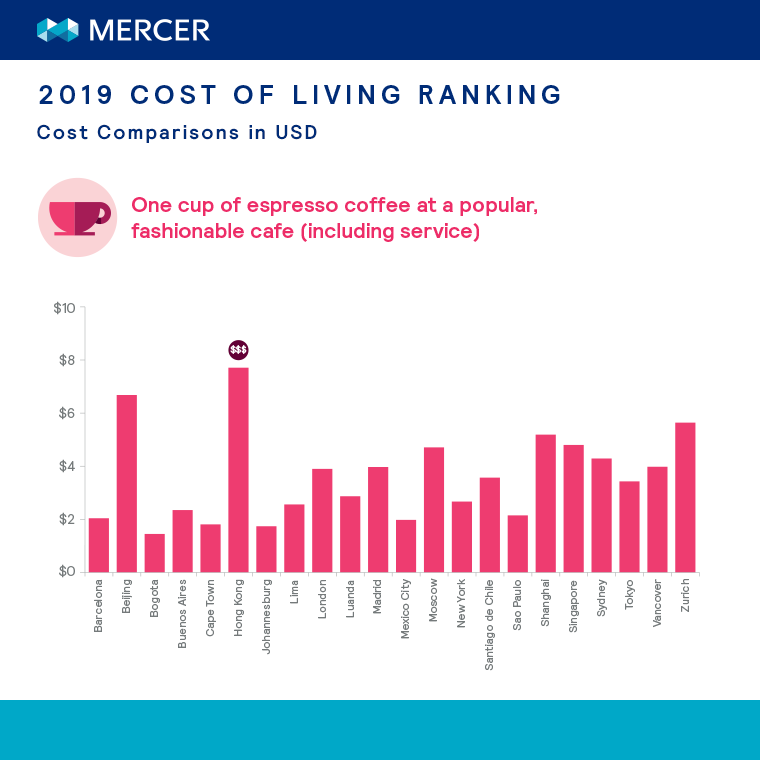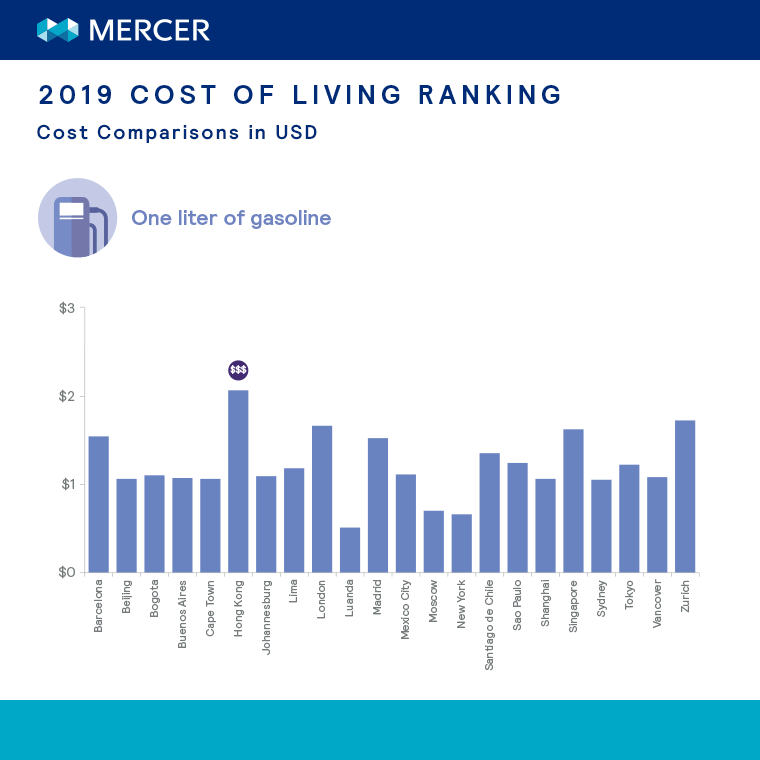 You can see the full list of over 200 cities just below:
| Rank | City | Country/Region |
| --- | --- | --- |
| 1 | Hong Kong | Hong Kong (SAR) |
| 2 | Tokyo | Japan |
| 3 | Singapore | Singapore |
| 4 | Seoul | South Korea |
| 5 | Zürich | Switzerland |
| 6 | Shanghai | China |
| 7 | Ashgabat | Turkmenistan |
| 8 | Beijing | China |
| 9 | New York | United States |
| 10 | Shenzhen | China |
| | | |
| --- | --- | --- |
| 11 | N'Djamena | Chad |
| 12 | Bern | Switzerland |
| 13 | Geneva | Switzerland |
| 14 | Victoria | Seychelles |
| 15 | Tel Aviv | Israel |
| 16 | San Francisco | United States |
| 17 | Guangzhou | China |
| 18 | Los Angeles | United States |
| 19 | Osaka | Japan |
| 20 | Copenhagen | Denmark |
| 21 | Dubai | United Arab Emirates |
| 22 | Kinshasa | Democratic Republic of the Congo |
| 23 | London | United Kingdom |
| 24 | Libreville | Gabon |
| 25 | Lagos | Nigeria |
| 26 | Luanda | Angola |
| 27 | Moscow | Russia |
| 27 | Nanjing | China |
| 29 | Noumea | New Caledonia |
| 30 | Abidjan | Côte d'Ivoire |
| 30 | Chengdu | China |
| 32 | Tianjin | China |
| 33 | Abu Dhabi | United Arab Emirates |
| 33 | Nagoya | Japan |
| 35 | Taipei | Taiwan |
| 35 | Riyadh | Saudi Arabia |
| 37 | Chicago | United States |
| 38 | Honolulu | United States |
| 39 | Brazzaville | Republic of the Congo |
| 40 | Bangkok | Thailand |
| 41 | Qingdao | China |
| 42 | Washington | United States |
| 43 | Dublin | Ireland |
| 44 | Miami | United States |
| 45 | Milan | Italy |
| 45 | Shenyang | China |
| 47 | Paris | France |
| 47 | Dhaka | Bangladesh |
| 49 | Boston | United States |
| 50 | Sydney | Australia |
| 51 | Vienna | Austria |
| 52 | Yaounde | Cameroon |
| 53 | Beirut | Lebanon |
| 54 | Bangui | Central African Republic |
| 55 | Rome | Italy |
| 56 | White Plains | United States |
| 57 | Manama | Bahrain |
| 58 | Amsterdam | Netherlands |
| 59 | Djibouti | Djibouti |
| 59 | Houston | United States |
| 61 | Oslo | Norway |
| 62 | Dallas | United States |
| 63 | Accra | Ghana |
| 64 | Seattle | United States |
| 65 | Helsinki | Finland |
| 66 | Douala | Cameroon |
| 67 | Mumbai | India |
| 67 | Munich | Germany |
| 69 | Atlanta | United States |
| 70 | Montevideo | Uruguay |
| 70 | Morristown | United States |
| 72 | Dakar | Senegal |
| 72 | San Juan | Puerto Rico |
| 74 | Frankfurt | Germany |
| 75 | St. Petersburg | Russia |
| 75 | Amman | Jordan |
| 77 | Brussels | Belgium |
| 78 | Minneapolis | United States |
| 79 | Melbourne | Australia |
| 79 | Santiago | Chile |
| 81 | Berlin | Germany |
| 82 | Madrid | Spain |
| 83 | Port of Spain | Trinidad & Tobago |
| 84 | Luxembourg | Luxembourg |
| 85 | Abuja | Nigeria |
| 86 | São Paulo | Brazil |
| 87 | Perth | Australia |
| 88 | Conakry | Guinea |
| 89 | Auckland | New Zealand |
| 90 | Detroit | United States |
| 91 | Barcelona | Spain |
| 92 | Düsseldorf | Germany |
| 93 | Panama City | Panama |
| 94 | St. Louis | United States |
| 95 | Lisbon | Portugal |
| 96 | Canberra | Australia |
| 97 | Prague | Czech Republic |
| 97 | Nairobi | Kenya |
| 97 | Pittsburgh | United States |
| 100 | Hamburg | Germany |
| 100 | Jeddah | Saudi Arabia |
| 102 | Bandar Seri Begawan | Brunei |
| 103 | Brisbane | Australia |
| 103 | Muscat | Oman |
| 105 | Jakarta | Indonesia |
| 106 | Cleveland | United States |
| 107 | Portland | United States |
| 108 | Phnom Penh | Cambodia |
| 109 | Adelaide | Australia |
| 109 | Manila | Philippines |
| 111 | Riga | Latvia |
| 112 | Vancouver | Canada |
| 112 | Hanoi | Vietnam |
| 114 | Wellington | New Zealand |
| 115 | Toronto | Canada |
| 115 | Doha | Qatar |
| 117 | Yangon | Myanmar |
| 118 | New Delhi | India |
| 119 | Kuwait City | Kuwait |
| 120 | Ho Chi Minh City | Vietnam |
| 121 | Rio de Janeiro | Brazil |
| 121 | Lima | Peru |
| 123 | Lyon | France |
| 124 | Bamako | Mali |
| 125 | Pointe-à-Pitre | Guadeloupe (France) |
| 126 | Stuttgart | Germany |
| 127 | Stockholm | Sweden |
| 128 | Cotonou | Benin |
| 128 | Athens | Greece |
| 128 | Casablanca | Morocco |
| 131 | Bratislava | Slovakia |
| 131 | San José | Costa Rica |
| 133 | Buenos Aires | Argentina |
| 133 | Havana | Cuba |
| 135 | Birmingham | United Kingdom |
| 136 | Guatemala City | Guatemala |
| 137 | Aberdeen | United Kingdom |
| 138 | Winston-Salem | United States |
| 139 | Montréal | Canada |
| 140 | Tallinn | Estonia |
| 141 | Kuala Lumpur | Malaysia |
| 142 | Ljubljana | Slovenia |
| 143 | Zagreb | Croatia |
| 144 | Mexico City | Mexico |
| 145 | Lome | Togo |
| 145 | Ouagadougou | Burkina Faso |
| 145 | Glasgow | United Kingdom |
| 148 | Quito | Ecuador |
| 149 | Niamey | Niger |
| 150 | Kiev | Ukraine |
| 151 | Nürnberg | Germany |
| 152 | Vilnius | Lithuania |
| 153 | Calgary | Canada |
| 154 | Chennai | India |
| 154 | Istanbul | Turkey |
| 156 | Leipzig | Germany |
| 157 | Kingston | Jamaica |
| 158 | Belfast | United Kingdom |
| 159 | Maputo | Mozambique |
| 160 | Rabat | Morocco |
| 161 | Limassol | Cyprus |
| 161 | Ottawa | Canada |
| 161 | Port Louis | Mauritius |
| 164 | Budapest | Hungary |
| 165 | Port au Prince | Haiti |
| 166 | Tirana | Albania |
| 166 | San Salvador | El Salvador |
| 166 | Cairo | Egypt |
| 169 | Santo Domingo | Dominican Republic |
| 170 | Bogotá | Colombia |
| 171 | Dar es Salaam | Tanzania |
| 171 | Addis Ababa | Ethiopia |
| 173 | Warsaw | Poland |
| 174 | Brasilia | Brazil |
| 175 | Kigali | Rwanda |
| 176 | Bucharest | Romania |
| 177 | Sofia | Bulgaria |
| 178 | Baku | Azerbaijan |
| 179 | Bengaluru | India |
| 180 | Cape Town | South Africa |
| 181 | Belgrade | Serbia |
| 182 | Colombo | Sri Lanka |
| 183 | Kampala | Uganda |
| 184 | Algiers | Algeria |
| 185 | Johannesburg | South Africa |
| 186 | Asunción | Paraguay |
| 187 | Monterrey | Mexico |
| 188 | Harare | Zimbabwe |
| 189 | Kolkata | India |
| 189 | Gaborone | Botswana |
| 191 | Almaty | Kazakhstan |
| 192 | Nouakchott | Mauritania |
| 193 | Blantyre | Malawi |
| 194 | Sarajevo | Bosnia and Herzegovina |
| 195 | La Paz | Bolivia |
| 196 | Lusaka | Zambia |
| 197 | Yerevan | Armenia |
| 198 | Minsk | Belarus |
| 199 | Tegucigalpa | Honduras |
| 200 | Managua | Nicaragua |
| 201 | Skopje | Macedonia |
| 202 | Tbilisi | Georgia |
| 203 | Islamabad | Pakistan |
| 204 | Windhoek | Namibia |
| 204 | Banjul | Gambia |
| 206 | Bishkek | Kyrgyzstan |
| 207 | Karachi | Pakistan |
| 208 | Tashkent | Uzbekistan |
| 209 | Tunis | Tunisia |