Cryptocurrency, crypto coins, or simply crypto is a digital asset that is secured by cryptography, which makes it nearly impossible to counterfeit. One of the most important things about cryptocurrencies is that they are generally not issued by any central authority, rendering them theoretically immune to government interference or manipulation.
The craze about cryptocurrencies begun shortly after the release of Bitcoin in 2009 – the first decentralized cryptocurrency. The price of one Bitcoin (BTC) is now worth a fortune, around 40 thousand US dollars at the time of writing. Since then, many cryptocurrencies have been created with varying prices.
Earning free crypto
You will be glad to know that you can actually earn crypto for free in 2021. All you need is a computer, laptop, tablet, or a similar device with internet and a crypto wallet. Don't worry about the hardware, CPUs or GPUs as we are not talking about mining, as there are other ways to get some virtual money. There is no special catch, and you don't need to invest anything to begin saving crypto coins.
There are many services that offer crypto payments for performing various tasks. From solving captcha, clicking on ads, completing surveys all the way to playing games. All of these activities can bring you some virtual coins which actually worth real money. We will explore the best and highest-yielding services so you could begin earning right away.
CoinPayU – best crypto earning platatform

Probably the best service for getting free crypto is CoinPayU. Once you sign up, you can perform surveys, watch videos and complete offers in order to win satoshis, but one of the most interesting features is the ad surf option. There are many ads to go through and you can minimize them while you are doing something else on your device. The free faucet has a 60-minute cooldown, and you get to choose 3 out of 6 cryptocurrencies as a reward. The high rewards and direct payments make them our most preferred option for earning crypto.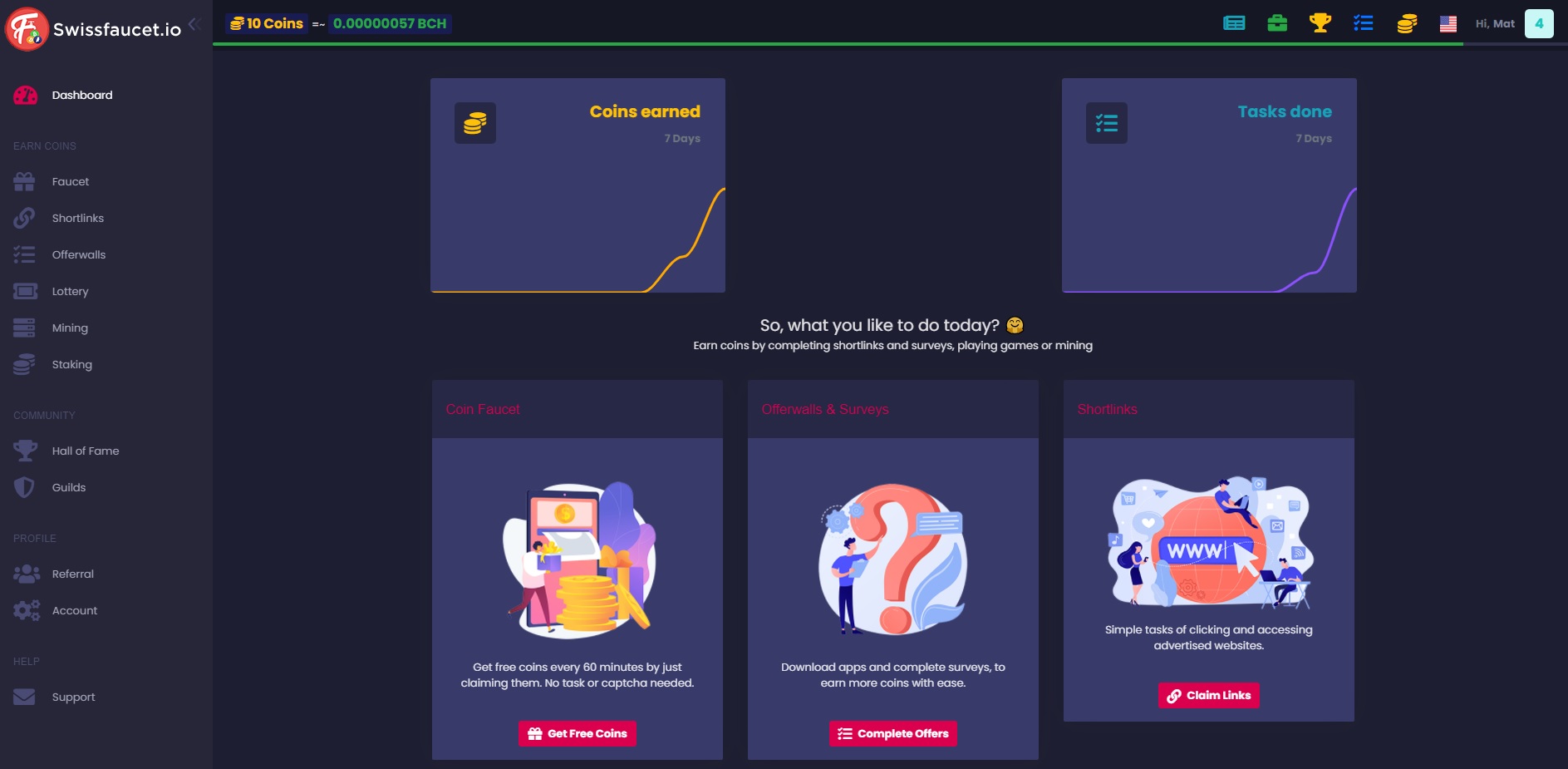 We selected SwissFaucet because of the high rewards it provides for finishing shortlinks. And there are so many of them that you can complete in a single day. Additionally, they have daily tasks which are realistically achievable, unlike other similar websites. The faucet can be rolled every hour without completing a captcha. Other ways for making some quick money include PTC, offerwalls, mining, lottery staking… You can withdraw what you earned directly to your wallet for a very small fee (except for some coins which have higher fees).

This site is a top choice for many online earners, especially for Russian people. The platform offers high rewards for surfing through ads and websites. You can get BTC or Russian rubles or both simultaneously. Both currencies are withdrawable, but you can also use them for fueling your own ads. Working on this website is very easy and does not take a lot of your time. Simply log in a few times a day, go through the ads that are available to you and you can quickly make a few bucks (or rubles for that matter).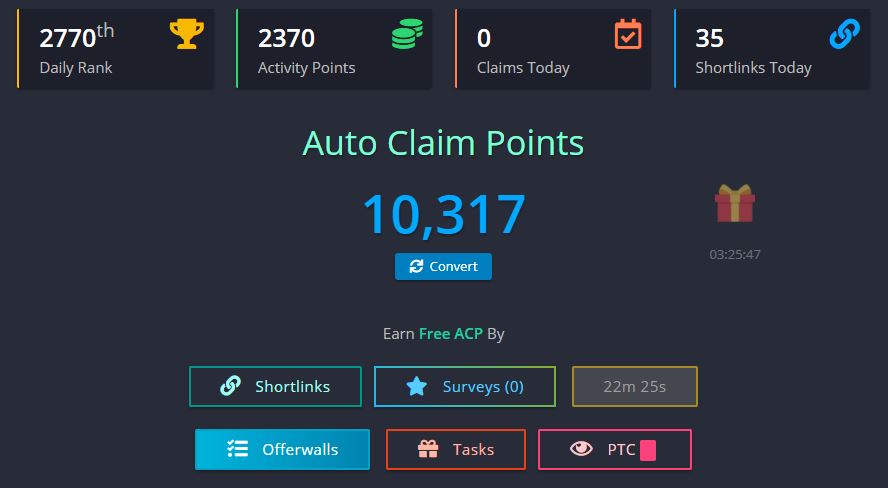 If you are looking for a good platform that has a lot to offer, then you have to consider Fire Faucet. You can earn points by completing surveys, clicking on shortlinks, visiting websites, or performing some other tasks. The free faucet can be rolled every 30 minutes. The points you gather can be converted to 9 popular cryptocurrencies that are supported by them, then withdrawn. You also get bonuses as you level up and there is a happy hour during the weekend.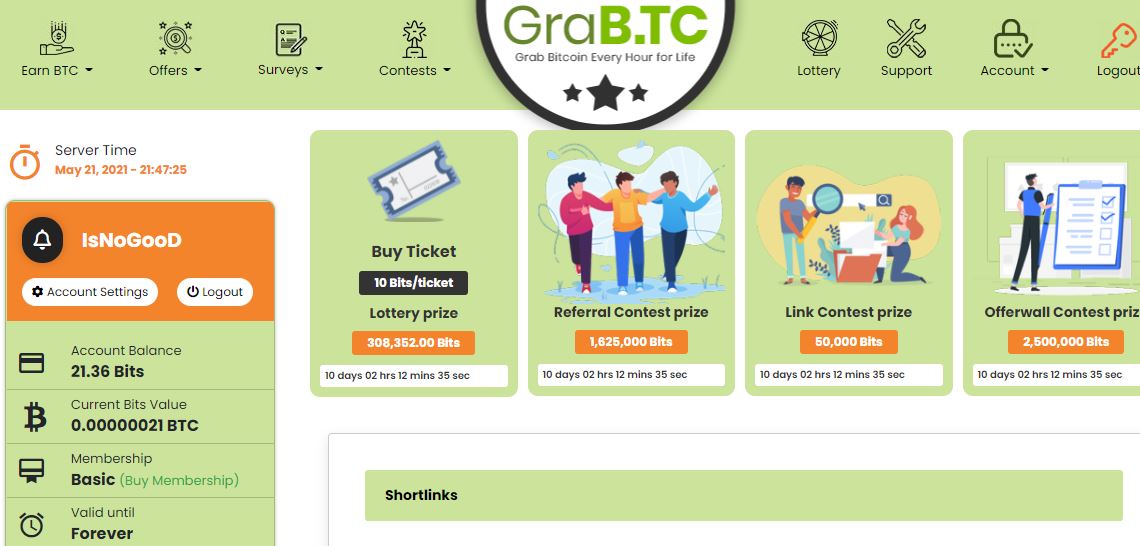 Grab Bitcoins or GraB.TC is a very good platform if you are focused on earning the most popular cryptocurrency. There are no other coins offered, but the service is one of the top out there. It offers various ways of earning: surveys, offers, a faucet that can be rolled every hour, shortlinks, ads, contests, and the list goes on. It is interesting that you can also use CPU mining to boost your crypto rewards or share posts on forums. The yields are solid, the interface is clear and when we take everything into account it is clearly one of the best in this field.
CoinAdster is great because the faucet can be rolled every 10 minutes. This can really boost your income if you are an active clicker. In addition, there are more than 50 different shortlinks and PTC ads that can improve your earnings, as well as surveys, offers, contests, achievements, referrals… You can withdraw your Bitcoins directly to your wallet or through FaucetPay.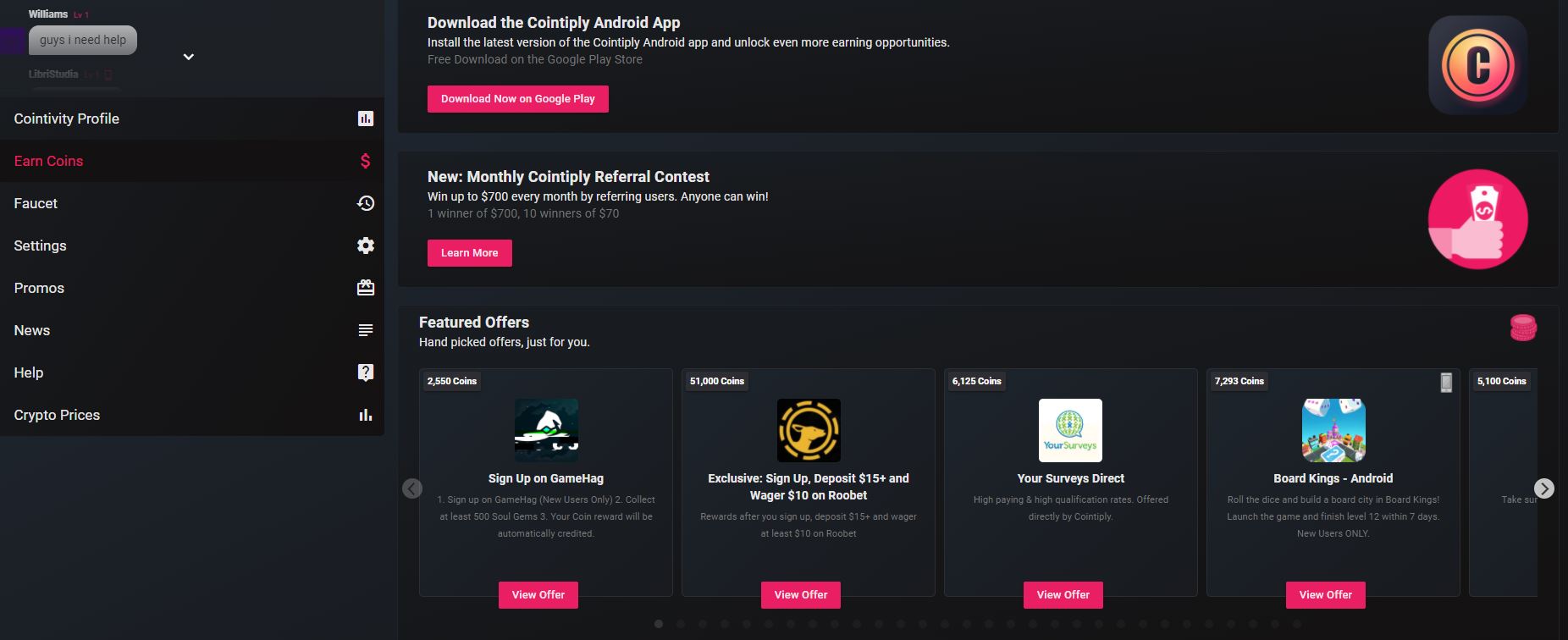 Cointiply is one of the best and most complete platforms for earning free crypto. It has a variety of tasks available to the user which grant you a fine experience while you earn coins. You can complete high-yielding tasks and surveys, play games, roll the free faucet every once in a while, watch videos, click on ads and you can even earn while chatting with the other members of the service. They have a mobile app as well so you could make some money on the go and many other features. The coins you earn on the platform which are like an internal currency can be withdrawn as Bitcoin, Dogecoin, Dash, or Litecoin.

This service offers many tasks for earning coins and there is leveling system as well. The free faucet can be rolled every 25 minutes. They have a cool timer displayed on the browser tab so you can check the countdown more easily. The platform has some RPG game elements, so you can also get an item that can be used for bonuses or sold on the market. They support withdrawing what you earned in 20 cryptocurrencies at the time of writing.
If you want to earn more money, you need to consider this platform as well. They have a signup bonus and a very generous faucet that gives you dozens of bits (their internal currency) every hour. In addition, you can also complete surveys, offers, PTC, shortlinks. They also have various competitions and a lottery. You can withdraw funds as TRX and BTC directly to your wallet or simply use FaucetPay. The minimum withdrawal amounts are neither too low, nor too high.
FaucetPay is actually a micro wallet, but the platform integrated multiple ways to earn crypto directly through them and indirectly through other services. You can complete surveys, PTC ads, etc for a more straightforward earning, but the biggest advantage is that many services have lower withdrawal limits for FaucetPay and usually no fees are charged if you transfer your money there. You can increase your earnings by combining multiple services. We will mention some of them below.
When people talk about Feyorra, they are mostly referring to the ERC-20 token published on the Ethereum blockchain. However, there is a crypto-earning platform with the same name. Of course, you can earn FEY there, but they also support multiple other crypto coins. What's cool about this service is that there are no minimum withdrawal limits, but they can send your funds only to your FaucetPay account. The more shortlinks you visit, the more energy you get, which is needed for the faucet. You get points for both of those actions. If we take the PTC ads, the lottery and the tasks into consideration, you can really boost your earnings.
As the name suggests, this site is focused on providing DOGE. It's simple and easy to use with fair rewards. For example, they have a faucet that can be used every minute. They also have other standard features like PTC ads, shortlinks, etc.
This platform is cool because you can earn crypto while playing simple games through your browser or on your smartphone. Aside from that, they also have daily rewards: free Zcash directly to your wallet and free Dogecoin. It is definitely worth trying.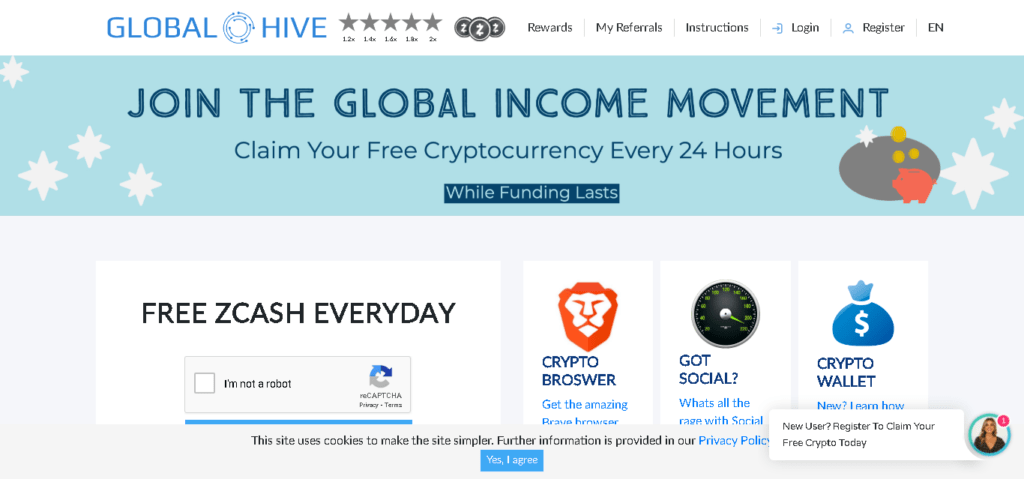 This platform is simple and without unnecessary complications. It offers free ZEC every day. You just need to register, enter your Zcash address and that's it. There are no withdrawal limits or anything of the sort, the amount is sent to your wallet directly and immediately.
Conclusion
Remember that you are not required to make a single choice. Many people that want to earn some crypto try multiple services at once, then stick with those they find the most suitable for them. Just don't create multiple accounts on the same platform as that might get you banned. Also, have in mind that most of these services have referral programs so if you convince your friends to join, you increase your chances of earning a good amount of crypto. Good luck!